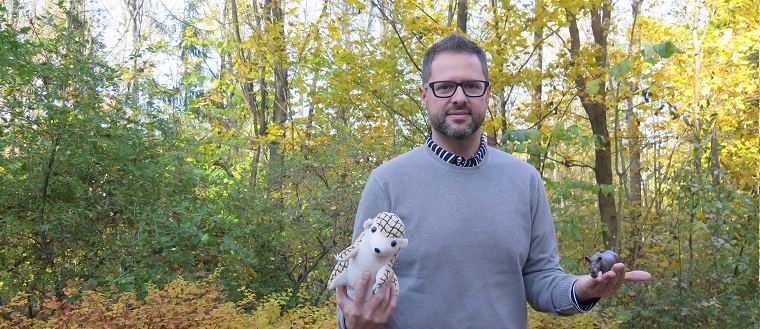 Monitoring illegal wildlife trade on social media and on the savannah
15 Nov 2016
Illegal wildlife trade is the second largest form of illicit commerce in the world after narcotics. It is threatening the survival of many iconic species such as the rhinoceros, tiger and elephant. Academy of Finland Postdoctoral Researcher Enrico Di Minin is a conservation biologist currently working on a research project that seeks to expose the illegal wildlife trade supply chain from illegal hunting grounds to the consumer market.
The routes of illegal wildlife trade remain poorly known. Di Minin will address this topic that is currently a global priority in biodiversity conservation by using a multidisciplinary approach and novel data sources. Specifically, Di Minin will be among the first ones to make use of data streams from social media to shed light on the social networks surrounding illegal wildlife trade. Social media platforms, in fact, are increasingly being used for the illegal trade in threatened species, such as orangutan.
There are very real concerns about the staggering rate at which the state of wildlife is declining. "While we are having this interview, one or two rhinos will be killed illegally in South Africa. An elephant is killed every 15 minutes. The situation is really tough on the ground," Di Minin says.
Di Minin says that rhino horn trade has been banned since 1977 and ivory trade since 1989, but since then we've lost most of the elephants or rhinos. Illegal wildlife trade attracts a great deal of market speculation. "Rhino horn and ivory are bought by wealthy people in the Far East, mainly China and Vietnam. Elephant poachers in Africa are poor local people who are prepared to shoot elephants for the sake of just 100 dollars." Illegal ivory fetches about 1,500 euros a kilo in the black market. The price of rhino horn is almost 50,000 euros a kilo, and the African rhino population has plummeted to a mere 26,000 individuals.
Di Minin says that the people who benefit from poaching are market speculators operating outside of Africa, gambling and speculating on species extinctions. African rangers in conservation areas, on the other hand, are poorly paid, understaffed, and are trying to protect animals against equally poor poachers.
Researchers provide support for decision-making
Di Minin considers it important that communities living around conservation areas should benefit from conservation so that there would be no incentives for poaching and so that the conservation areas would not be lost. Legal trade could be used to help halt poaching and finance nature conservation measures. Conservation always arouses emotions, Di Minin says, and research results do not always coincide with the views of animal protection groups and other conservation organisations. "As a research scholar it is my duty to accurately report my research results, and these results show that in some cases illegal wildlife trade can only be stopped by banning all forms of trade, such as in the case of the pangolin. At the moment, though, efforts to protect elephants and rhinos are failing despite the total trade ban. As such, it is time to consider alternatives, such as legalizing the trade in rhino horn and ivory"
Pangolins are completely harmless creatures whose meat is used in soups and whose protective scales are used in traditional medicine. They are a very rare sight in nature, but at the same time they are the most illegally-traded mammal in the world.
Di Minin takes a highly structural approach to phenomena around illegal wildlife trade, and he is keen to underscore the interactions between biology and other disciplines in generating policy-relevant information. "My master's degree in Conservation Biology in the UK had a major influence in shaping the researcher that I am today. This course was a cross-disciplinary collision of biology with economics, law and social sciences. My research has a strong economic component," Di Minin explains.
Finland provides an important work environment for a researcher like Di Minin. "Finland is the world's least corrupt country, and all work processes here are open and transparent. As the research we do is peer-reviewed and independent, there is a high level of trust in our work," Di Minin says.
Like most researchers, Di Minin enjoys spending time at his computer, immersed in data analysis – but he says there is more to the researcher's job than that. As well as working with colleagues to publish in high-quality journals, Di Minin spends much time exchanging views and opinions with various stakeholders, from global organizations to local conservation authorities, in order to enhance the practical impact of his research.
Di Minin's research findings about rhino horn trade and trophy hunting, the recreational hunting of wild animals that are kept as trophies, have provided important information for decision-making in South Africa. "They've consulted my expert opinion and, for example the South African Ministry of Environment, used the outputs of my research to inform decision-making processes in the country."
The research project's articles appear not only in Nature, Science and other prestigious journals, but all of the data and methods are and will be made available in the public domain, provided that they include no sensitive information. "When I was researching my doctoral thesis I got so much help from so many conservation practitioners that I want to give something back," he explains. This means that experts in developing countries and conservation area managers will also have access to the important information that will be generated during the project.
Environmental diversity improves the biologist's job
"I grew up in Africa and the first wild animal I remember seeing was a lion. In fact it was a pride of lions in a national park where lions have since gone locally extinct. Like many other people in this field I'm very passionate about animals, but I'm also concerned about an increasing human population and the impact humans are having on the natural environment," Di Minin says. Indeed, he describes nature conservation areas as islands surrounded by people.
In order to do research about rhinos and about African conservation areas from far-flung Finland, you need to have strong international collaborations. Di Minin is Italian, but he grew up in various African countries, took his bachelor's degree in Italy and completed his master's degree and doctoral dissertation in conservation biology in the UK and South Africa. Di Minin came to Finland in 2012 when he joined Professor Atte Moilanen's research team. Di Minin says that "it's always possible to return home but I feel personally and culturally enriched because of all these experiences in different countries".
"It's been a great asset for me to take my degrees and carry out postdoctoral research in different countries, at different universities and departments. It's good for young researchers to challenge themselves and to explore the world." He describes Finland as a very promising place for researchers and says it provides an excellent environment for research. "When I'm abroad, people often ask me about living and working in Finland. Many of them would be interested in coming here, especially as they see that I'm doing and publishing interesting research with global impact."
During his fieldwork in Africa Di Minin has also faced some dangerous situations. In Zimbabwe, he's found himself looking down the barrel of a machine gun and charged by a rampaging bull elephant. For conservation park managers, Di Minin points out, coming face to face with guns is an all too common occurrence, and being chased by elephants and other wild animals is just part of the African savannah experience.
"On the African savannah I am the intruder; the animals are just going about their lives in their natural habitat. I hope my work can contribute to the persistence of these landscapes and magnificent species"
Text and photo: Joonas Aitonurmi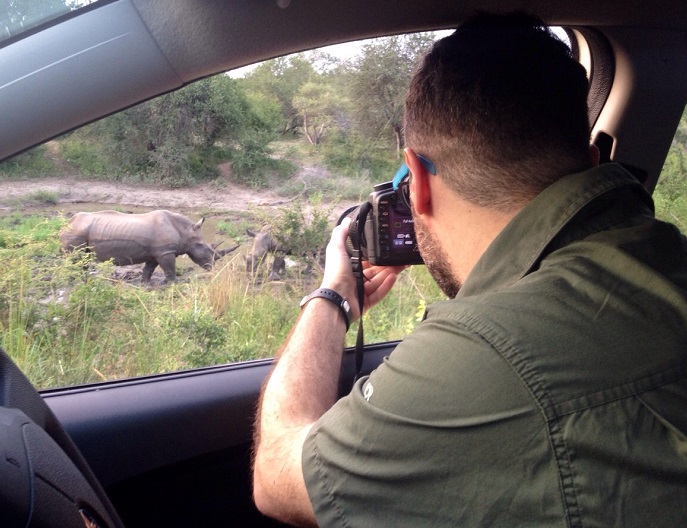 Last modified 15 Nov 2016